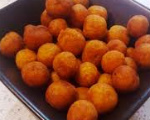 Prep: 20 min
Cook Time: 35 min
Total: 55 min
Serving: 18-20 balls
Yummy sweet potato balls, make a great snack or appetizer.
Ingredients
1/4 cup butter, melted
1/4 cup milk
2 tablespoons sugar
1/2 teaspoon salt
1/4 teaspoon pepper
4 cups of cooked, mashed sweet potatoes
18-20 mini marshmallows
3 cups coarsely chopped cornflakes
Directions
Preheat oven to 375 degrees Fahrenheit. Grease a baking pan.
Mix together the butter, milk, sugar, salt, pepper and sweet potatoes.
Place a marshmallow in the center and roll a ball about 2 inches round using the sweet potato mix. Coat it in the cornflakes.
Bake for 25-35 minutes.
Optionally, you may freeze the balls before baking, and then bake, without thawing, for 45 minutes at 375 degrees Fahrenheit.