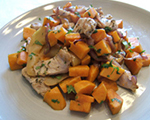 Prep: 15 min
Cook Time: 12 min
Total: 27 min
Serving: 4 Servings
Enjoy an amazing blend of flavors in this wonderful sweet and savory Jamaican-inspired dish.
Ingredients
1-1/2 cups quick-cooking rice
1/4 cup thinly sliced green onion
1 large sweet potato
1 medium tart apple, cored
12 ounces lean boneless pork strips for stir-frying
3 teaspoons Jamaican jerk seasoning
1 tablespoon vegetable oil
1/3 cup apple juice
Directions
Cook the rice according to package directions and then fold in half of the sliced onion. Set aside and keep warm.
While the rice is cooking, peel the sweet potato and cut, lengthwise, into quarters and then crosswise into thin slices. Microwave the potato for 4 minutes, covered with plastic wrap, and then set aside.
Cut the apple into 16 thin slices and set aside.
Sprinkle the pork strips with the Jamaican seasoning and toss to coat.
Heat the oil in a large frying pan over medium-high heat until hot but not smoking. Add the pork and stir-fry for about 2-1/2 minutes. Add the sweet potato and then pour in the apple juice, stirring to combine. Once the mixture begins to boil, reduce the heat to medium-low and then simmer for 1-1/2 minutes.
Divide the rice between 4 individual plates and then spoon over the pork stir-fry mixture. Serve immediately.