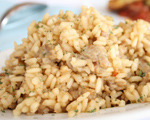 Prep: 5 min
Cook Time: 15 min
Total: 20 min
Serving: 4 Servings
Crumbled sweet Italian sausage gives this creamy risotto side dish additional texture and a touch of sweet and spicy flavor.
Ingredients
1 cup Arborio rice, uncooked
2 tablespoons olive oil
1/2 cup finely chopped onion
1/3 cup white wine
2-1/2 to 3 cups hot chicken broth
8 ounces of crumbled sweet Italian sausage
1/4 cup grated Parmesan cheese
1 tablespoon butter
Salt and freshly ground peppers
Directions
Place the olive oil into a large saucepan over medium heat. Once the oil begins to shimmer, add the crumbled sausage and the onion and cook for 5 minutes, stirring frequently.
Add the rice to the pan, stir well to coat with the oil mixture and then slowly pour in the wine and cook until completely evaporated. Stir in the broth, about 1/2 cup at a time, waiting for the liquid to completely absorb after each addition.
Take the pan off the heat and add the butter, parmesan and a few pinches of salt and pepper. Stir well to combine and then serve hot.