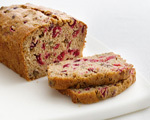 Prep: 15 min
Cook Time: 1 hr
Total: 1 hr 15 min
Serving: Makes 1 loaf
Serve this sweet bread at breakfast or as an afternoon snack. Cranberries can be substituted with raisins or dried apricots. Top with cream cheese or butter before serving.
Ingredients
1 cup buttermilk
2 tablespoons instant coffee
5 cups flour
1-1/4 cups sugar, divided
4 teaspoons baking powder
1/2 teaspoon baking soda
1/2 teaspoon salt
3 eggs
1 cup sour cream
1 cup chopped nuts
1/2 cup dried cranberries
1 tablespoon butter
Directions
Preheat oven to 350 degrees.
Mix together buttermilk and instant coffee.
Combine flour, 1 cup sugar, baking powder, baking soda and salt.
Blend buttermilk mixture into flour combination.
Add sour cream and eggs; mix until dough becomes stiff.
Fold in nuts and cranberries.
Pour batter into loaf pans, then carve an "X" onto the surface and top with butter.
Sprinkle remaining sugar over top of all.
Bake at 350 degrees for 1 hour.