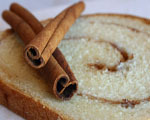 Prep: 10 min
Cook Time: 40 min
Total: 50 min
Serving: Makes 1 loaf
This sweet bread serves well alongside many breakfast main dishes.
Ingredients
1/2 cup whole wheat flour
1/2 cup flour
1/2 cup rye flour
2 teaspoons baking powder
1/2 teaspoon baking soda
1/2 teaspoon cinnamon
1/2 teaspoon salt
1/2 cup rolled oats
1/2 cup oat bran
1/2 cup raisins
3 egg whites
1 cup honey
1 cup sweetened cinnamon applesauce
1/2 cup milk
Directions
Combine flour, whole wheat flour, rye flour, baking powder, baking soda, cinnamon, salt, oats, oat brans and raisins.
In a separate bowl, beat egg whites, honey, applesauce and milk. Mix into flour combination.
Pour batter into a prepared loaf pan. Bake at 375 degrees F for 35-40 minutes or until golden brown.