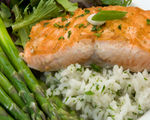 Prep: 5 min
Cook Time: 10 min
Total: 15 min
Serving: 6
When the yen strikes for sweet and spicy, this dish won't leave you wanting. Chili oil ignites the salmon steaks while orange marmalade tempers the heat.
Ingredients
6 (6 ounce) salmon steaks, about 1-inch thick
Pinch of salt
Black pepper to taste
Chili Oil Rub:
1 tablespoon chili oil*
Juice of a lemon (about 3 tablespoons)
¼ cup finely chopped fresh oregano or cilantro
2 garlic cloves, minced
½ cup orange marmalade
Directions
Chili Oil Rub:
Whisk the rub ingredients together in a small bowl.
Season salmon with salt and pepper.
Wearing disposable gloves, massage salmon with chili oil rub, discarding leftover.
Place salmon in a large ziplock bag or in a glass dish.
Marinate in the refrigerator for 30 minutes.
Warm marmalade in the microwave or on the stove until it has a pourable consistency.
Add a bit of water, if needed.
Set aside.
Meanwhile, preheat grill to medium high.
Right before grilling fish, oil grill using a wad of paper towels and vegetable oil.
Place the steaks on the grill and cook 4 to 5 minutes.
Liberally brush tops and sides of steaks with orange marmalade during the last minute.
Flip fish and cook another 4 to 5 minutes, brushing tops of steaks with marmalade the last minute.
The salmon will be cooked through when it just begins to flake when pressed lightly with a fork.
If broiling, preheat broiler and place salmon on a broiler pan sprayed with nonstick cooking spray or wiped with vegetable oil.
Broil 6 inches from the heat source for 4 to 5 minutes per side or until fish just begins to flake when pressed with a fork.
Brush steaks with marmalade as directed for grilling.