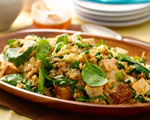 Prep: 10 min
Cook Time: 10 min
Total: 20 min
Serving: 4 Servings
If you have any leftover fried rice from the night before use that instead of making new rice.
Ingredients
1-1/2 cups steamed white rice)
2 cloves garlic smashed
2 tablespoons grated fresh ginger
1 block (14 ounce) extra firm tofu cut into 1/2 inch cubes
1 bag (1 pound) baby spinach
1 cup low-sodium soy sauce
2 tablespoons honey
1 tablespoon sambal
2 tablespoons toasted (Asian) sesame oil
1/2 bunch scallions sliced into small rounds
Directions
Place a wok over medium heat and add the sesame oil. Once the oil begins to shimmer, add the garlic and ginger and cook for 3 minutes, or until garlic turns golden brown, then add the tofu.
In the meantime, place the soy sauce, honey and sambal is a small bowl and whisk together to combine.
Add the soy mixture to the wok and cook until tofu is golden.
Stir in the spinach and sauté for 1 minute, and then fold in the cooked rice.
Serve the tofu fried rice immediately, garnished with the sliced scallions.