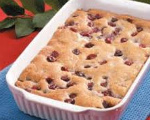 Prep: 15 min
Cook Time: 50 min
Total: 1 hr 5 min
Serving: 6 servings
Cherries with a sweet, puffy dessert topping.
Ingredients
Vegetable cooking spray
2 cups pitted dark sweet cherries
3 eggs
1 cup milk
1/2 cup flour
1/4 cup sugar
1 teaspoon vanilla extract
Confectioners' sugar
Directions
Preheat the oven to 350 degrees Fahrenheit. Grease an 8-inch square baking pan with the cooking spray.
Add the cherries to the bottom of the prepared pan.
Combine the eggs, milk, flour, sugar and vanilla extract. Beat until smooth. Pour the mixture evenly over the cherries.
Bake for 45-50 minutes, or until golden and puffy. Sprinkle with the confectioners' sugar before serving.