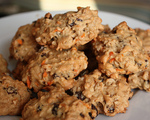 Prep: 15 min
Cook Time: 15 min
Total: 30 min
Serving: Makes 4 dozen cookies
These easy-to-make cookies will soon become a family favorite! For added fun, use your favorite cream cheese frosting to sandwich two cookies together.
Ingredients
1 cup brown sugar
1 cup sugar
2 cups butter, softened
2 eggs
1 teaspoon vanilla
2 cups flour
1 teaspoon baking soda
1 teaspoon baking powder
1/4 teaspoon salt
1 teaspoon cinnamon
1/2 teaspoon nutmeg
2 cups oats
1-1/2 cups finely grated carrots
1 cup raisins
Directions
Combine flour, baking soda, baking powder, salt, cinnamon and nutmeg; set aside.
Mix together sugar, brown sugar, eggs, butter and vanilla.
Blend flour combination into egg mixture.
Fold in oats, carrots and raisins.
Cover and refrigerate dough for 1 hour or until firm enough to handle.
Drop by teaspoon onto greased cookie sheets.
Bake at 350 degrees for 12-15 minutes.