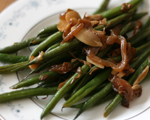 Prep: 10 min
Cook Time: 35 min
Total: 45 min
Serving: 4 Servings
Because caramelized shallots are a perfect and delicious garnish for so many dishes, it is important to know how to cook them on a minutes' notice. Here's an easy recipe.
Ingredients
6 tablespoons (3/4 stick) unsalted butter
2 pounds fresh shallots, peeled
3 tablespoons sugar 3
tablespoons good red wine vinegar
1/2 teaspoon kosher salt
1/4 teaspoon freshly ground black pepper
Directions
Preheat the oven to 400 degrees.
In a medium ovenproof sauté pan, melt the butter over medium heat and add the shallots and the sugar. Mix well so the shallots are coated.
Cook the onions for 10 minutes, stirring occasionally, until the shallots begin to brown, and then add the vinegar, salt and the pepper and mix to combine.
Place the pan in the oven and roast for about 25 minutes. Remove, sprinkle with salt and pepper to season and serve immediately.