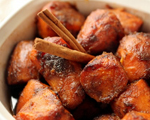 Prep: 15 min
Cook Time: 1 hr 30 min
Total: 1 hr 45 min
Serving: Serves 8
A sweet Southern inspired side dish with honey-glazed yams and apples. A healthy and festive addition to your Thanksgiving Day feast.
Ingredients
3 pounds yams, peeled and cut into 1-inch pieces
1 pound Granny Smith apples, peeled and cut into 1/2-inch pieces
2 medium onions, cut into 1-inch wedges
4 tablespoons unsalted butter
1/4 cup honey
1 teaspoon salt
1/4 teaspoon nutmeg
1/4 teaspoon cayenne pepper
Directions
Preheat your oven to 350 degrees.
Place all of the ingredients in a large bowl and toss well to combine.
Empty ingredients into a large baking dish and bake for 1 hour, stirring occasionally. Test yams for tenderness.
Increase the oven to 500 degrees and continue baking until yams are golden brown and all the liquid in the pan evaporates; approximately 15 minutes. Serve immediately.