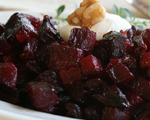 Prep: 10 min
Cook Time: 1 hr 15 min
Total: 1 hr 25 min
Serving: Makes 10 (1/2 cup) servings
This gorgeous ruby-red side dish is made with roasted beets, toasted walnuts and creamy chèvre goat cheese. Serve with glasses of Pinot Gris, Pinot Noir or a Syrah.
Ingredients
2 pounds beets, peeled, cut into 1/2-inch cubes
1/2 medium onion, chopped (about 1/2 cup)
3 garlic cloves, peeled and minced
1/4 teaspoon sea salt
2 teaspoons extra-virgin olive oil plus extra to grease pan
2 tablespoons chopped toasted walnuts
2 ounces chèvre goat cheese, crumbled
Directions
Preheat your oven to 400 degrees and brush a roasting pan with olive oil.
Put the beets, onion and garlic into the pan, sprinkle with a few pinches of salt, and then toss to coat. Spread the mixture evenly in the pan, cover with foil and then place in the oven for 1 hour.
Raise the oven temperature to 450 degrees, remove the foil from the beets and drizzle with the olive oil. Cook the beets for 15 minutes, stirring once after 8 minutes.
Take the beets out of the oven and transfer to a serving platter. Serve garnished with the walnuts and the goat cheese.