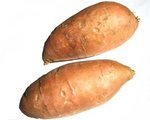 Prep: 25 min
Cook Time: 40 min
Total: 1 hr 5 min
Serving: 6
Sweet and White Potato Casserole uses canned sweet potatoes.
Ingredients
6 medium white potatoes, peeled and cut in quarters
boiling water
1, 16 ounce can sweet potatoes
3/4 cup milk
3/4 cup butter
2 teaspoons salt
dash pepper
Directions
In large saucepan, cover white potatoes with boiling water and cook, covered, until tender, about 20 minutes. Drain well and leave in saucepan.
Meanwhile in small saucepan, heat sweet potatoes over low heat. Add to white potatoes.
In same saucepan, heat milk and 1/2 cup butter until butter melts.
With electric mixer at low speed, mash potatoes until smooth. Gradually beat in hot milk mixture, salt and pepper; beat at medium speed until potatoes are light and fluffy.
Turn into a heated 1 1/2 quart heatproof serving dish. Melt remaining butter; brush over potatoes. Run under the broiler for 3 minutes to brown top.