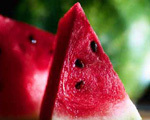 Prep: 10 min
Cook Time: 5 min
Total: 15 min
Serving: 4 Servings
Brush this glaze onto chicken, pork or shrimp during the last few minutes of cooking. It's sweet and spicy taste will compliment your protein and add an attractive sheen.
Ingredients
Sea salt and freshly ground black pepper
1 small watermelon
1 12-ounce jar apple marmalade
Juice of 1 small lime
Zest of 1 small lime
2 teaspoons red chile flakes
1 teaspoon jalapeño sauce
Directions
Cut the watermelon in half. Place one half in a juicer and cut the other half into wedges.
Pour the collected watermelon juice through a fine-mesh sieve and into a small saucepan, discarding any remaining solids.
Add the jelly to the saucepan along with the lime juice, lime zest, red chile flakes, jalapeno sauce and pinch of salt. Whisk to combine over medium heat until jelly melts and sauce becomes smooth. Remove from heat and set aside.
Use immediately or allow to cool then transfer to a tightly-lidded glass jar. Place in the refrigerator for up to 2 days.