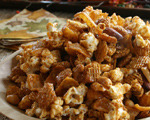 Prep: 10 min
Cook Time: 22 min
Total: 32 min
Serving: Makes about 18, 1-cup servings
A handful of this sweet and spicy snack mix, made with a crispy combination of chips, cereal, nuts and popped corn, is a crunchy and satisfying treat.
Ingredients
5 cups corn chips
4 cups Crispix cereal
8 cups popped corn
1 (11.5-ounce) can mixed nuts
1/2 cup light corn syrup
1/2 cup (1 stick) butter
1/2 cup brown sugar
2 teaspoons chili powder
1/8 teaspoon ground cinnamon
1/4 to 1/2 teaspoon ground cayenne pepper
1/4 teaspoon salt
Directions
Preheat your oven to 250 degrees.
Place the corn chips, cereal, popped corn and mixed nuts into a large roasting pan and toss to combine.
Put the corn syrup into a saucepan and bring to a boil. Once boiling, remove the pan from the heat and stir in the butter, sugar, chili powder, cinnamon, cayenne and salt. Pour the syrup mixture over the cereal mixture and toss well to coat.
Place the pan in the oven and bake the mixture for 1 hour, stirring every 20 minutes to ensure the mixture is evenly cooked. Allow the mixture to cool prior to serving.