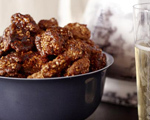 Prep: 5 min
Cook Time: 28 min
Total: 33 min
Serving: 7 servings
This heart-healthy walnut snack is flavored with a sweet and spicy blend of sugar and cayenne pepper, and then given an extra kick of flavor with the addition of sesame seeds. Enjoy a handful as a snack or serve as an accompaniment to cocktails.
Ingredients
1 pound walnut halves, (about 4 cups)
1 cup sugar
1/2 cup water
2/3 cup sesame seeds, (4 ounces)
121/4 teaspoon cayenne pepper
1/2 teaspoon sea salt
Directions
Preheat your oven to 350 degrees and line a baking sheet with parchment paper.
Place the walnuts, sugar and water into a large saucepan over medium-high heat and bring to a boil. Stir in the sesame seeds, cayenne and salt and simmer the mixture over medium heat, stirring constantly, for 4 minutes.
Reduce the heat and continue to cook, stirring constantly, for 4 additional minutes.
Transfer the walnuts to the prepared baking sheet and spread out into a single layer. Place the pan in the oven and cook the nuts for 18 minutes, then remove and allow to cool before serving.