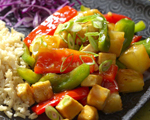 Prep: 20 min
Cook Time: 25 min
Total: 45 min
Serving: 4 to 6 servings
Serve this delicious Asian-inspired vegetarian dish over white rice and garnished with ultra-thin slices of fresh green onion.
Ingredients
1/2 cup vegetable broth
2 tablespoon soy sauce
2 tablespoons cornstarch
2 tablespoons butter
1 large onion, diced
1 large red pepper, sliced
1 large green pepper, sliced
1/2 teaspoon ground ginger
1/2 teaspoon salt
1/2 teaspoon ground red pepper
1, 20-ounce can pineapple chunks with juice
3/4 cup vegetable broth
1/3 cider vinegar
1/3 cup sugar
1-1/2 pounds firm tofu, diced
Directions
Mix together the 1/2 cup of vegetable broth, soy sauce and cornstarch in a small bowl.
Place the butter in a large sauté pan over medium-low heat. Once melted, add the onion, bell peppers, ginger, salt and red pepper. Stir to coat with the butter, cover and cook, stirring occasionally, for 8 minutes.
Add the pineapple, 3/4-cup vegetable broth, vinegar and sugar to the pan and stir to combine.
Pour in the cornstarch mixture and increase the heat to high. Bring the mixture to a simmer and then add the chicken.
Once the mixture begins to simmer, turn the heat to low and cook uncovered for 10 minutes.