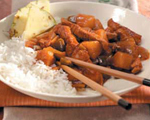 Prep: 5 min
Cook Time: 1 hr 18 min
Total: 1 hr 23 min
Serving: 4 Servings
A simple and delicious meal, this pork dish is perfect for a weeknight dinner in a pinch. Have your butcher cut the pork into strips in advance to save additional time.
Ingredients
2 pounds pork loin, cut into 2-inch long 1/2-inch strips
2 tablespoons olive oil
1 cup pineapple juice
1/2 cup chicken stock
1/2 cup cider vinegar
1/4 cup packed dark brown sugar
2 tablespoons cornstarch
2 tablespoons soy sauce
2 teaspoons Worcestershire sauce
1-1/2 pineapple chunks
1 small green pepper, thinly sliced
1/4 cup onion, thinly sliced
Directions
Heat the oil in a wok or large sauté pan over medium-high heat, and fry the pork until browned.
Remove the meat from the wok and drain on some paper towels.
Add the pineapple juice, stock, vinegar, sugar, cornstarch, soy sauce and Worcestershire sauce to the wok and stir to combine. Cook for 3-4 minutes until sauce has thickened and is clear in color.
Place the pork back into the wok, reduce the heat to medium-low and simmer for 1 hour.
Mix in the pineapple chunks, green pepper and the onion and cook for an additional 10 minutes. Serve hot over white rice.