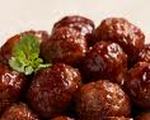 Prep: 25 min
Cook Time: 1 hr 15 min
Total: 1 hr 40 min
Serving: 4
Make sure to serve boiled potatoes with Sweet and Sour Meatballs with Red Cabbage.
Ingredients
1 medium onion, minced
1 tablespoon margarine
1/2 cup vinegar
1 teaspoon caraway seed
3 cloves
1 bay leaf
1 pound ground beef
1 egg
salt and pepper to taste
1/4 cup fine bread crumbs
1/4 cup raisins, chopped
1/4 teaspoon nutmeg
4 cups red cabbage, chopped
2 tablespoons brown sugar
1 tart apple, peeled and chopped
Directions
In a Dutch oven, cook onion in margarine 5 minutes. Add the next 4 ingredients. Cover and simmer for 5 minutes.
Mix meat, egg, breadcrumbs, raisins, nutmeg, salt and pepper. Shape into 16 balls. Add to first mixture and cook 2 minutes. Stirring carefully.
Remove meatballs. Add cabbage, brown sugar and apple to mixture. Cook for 5 minutes. Return meatball to pan. Cover and simmer for 45 minutes.
Put meatballs in a serving dish and surround with cabbage.