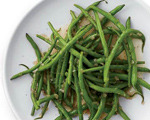 Prep: 10 min
Cook Time: 10 min
Total: 20 min
Serving: 4 Servings
Serve these sweet and sour steamed green beans with roast pork tenderloin or baked stuffed chicken. Their unique and intense blend of flavor will add an exciting element to your meal.
Ingredients
3/4 pounds green beans
2 tablespoons extra-virgin olive oil
1 medium shallot, minced
2 tablespoons cider vinegar
1 teaspoon sugar
Salt and freshly ground pepper
Directions
Place a large saucepan of water over high heat and bring to a boil. Put the green beans into a steamer basket and then place over the boiling water. Steam the beans for 6 minutes and then set aside.
Put the oil into a large sauté pan over medium-high heat. Once the oil begins to shimmer, add the shallot and cook for 3 minutes, then stir in the vinegar and the sugar and whisk vigorously until the sugar has completely dissolved.
Take the pan off of the heat, add the beans and a few pinches of salt and pepper, and then toss to coat. Serve immediately.