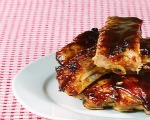 Prep: 10 min
Cook Time: 40 min
Total: 50 min
Serving: Serves 4 people
Perfect for the upcoming football festivities or just dinner with friends or family, Sweet and Sour Glazed Ribs are messy -- but delicious!
Ingredients
2 pounds pork spare ribs
5 tablespoons honey
5 tablespoons light soy sauce
Salt and fresh ground black pepper to taste
Directions
Preheat your oven to 375 degrees F. Add the spare ribs to a roasting pan and season well with salt and pepper.
Using a small bowl, whisk together the honey and soy sauce. Pour the mixture over the ribs. Turn the ribs and continue to spoon the mixture over all sides of the ribs until they're thoroughly coated.
Bake for about 30 minutes, then increase the oven temperature to about 425 degrees F and cook for another 10 minutes, or until the marinade becomes thick and sticky.