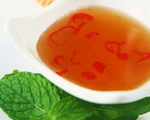 Prep: 5 min
Cook Time: 8 min
Total: 13 min
Serving: Makes 1-1/4 cups
A staple Chinese sauce that can be poured over grilled meats or used as a dip. Try it with rice vinegar as it produces a more authentic taste.
Ingredients
1/2 cup Major Grey's Chutney
1/4 cup apricot preserves
1/4 cup crushed pineapple
1/4 cup applesauce
1/2 teaspoon ginger, minced
1 teaspoon rice vinegar
Directions
In a small saucepan, combine all of the ingredients over medium heat.
Heat until blended, stirring often with a wire whisk.
Cool to room temperature and transfer to a dipping bowl.