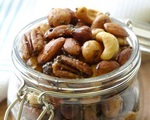 Prep: 10 min
Cook Time: 20 min
Total: 30 min
Serving: Makes 4 cups
Grab a handful of these nuts as a snack or serve these sweet and savory treats with cocktails.
Ingredients
1 pound mixed nuts (such as almonds, pecans, cashews, walnuts, peanuts, hazelnuts, macadamias)
3 tablespoons dark brown sugar
1/4 cup unsalted butter, melted
2 tablespoons chopped fresh rosemary
1 tablespoon chopped fresh thyme
2 teaspoons Worcestershire sauce
1 teaspoon sea salt
1/2 teaspoon freshly ground black pepper
Directions
Preheat the oven to 350 degrees.
Evenly spread the nuts on a baking sheet and then set aside.
Place the brown sugar and the butter in a small saucepan over medium-high heat and stir until the sugar has totally melted.
Sprinkle in the rosemary, thyme, Worcestershire sauce, salt and black pepper, and stir to combine.
Pour the mixture over the nuts, toss to coat and then place in the oven for 10 minutes.
Remove from the oven, stir the nuts once more and place in the oven for an additional 5 minutes.
Remove the nuts and allow to cool before serving.