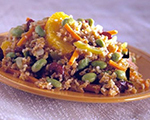 Prep: 15 min
Cook Time: 20 min
Total: 35 min
Serving: 4 Servings
This superb side dish combines edamame beans with raisins, oranges and garlic, to create a sweet and savory compliment to any meal.
Ingredients
1 medium onion, chopped
2 cloves garlic, minced
1 tablespoon olive oil
1 cup orange juice
1 cup chicken broth
1 cup bulgur
1 cup edamame beans
1 stalk celery, bias-sliced
1/3 cup raisins
1/3 cup toasted sesame seeds
2 oranges, peeled and sectioned
Directions
Place the oil in a large sauté pan over medium heat, and sauté the onion and garlic for about 6 minutes.
Stir in the orange juice, broth, bulgur, soybeans, carrot, and celery and bring the mixture to a boil over high heat.
Once boiling, cover and reduce heat to medium-low; simmer the mixture for 10 minutes or until the liquid has been absorbed.
Sprinkle in the raisins, orange and sesame seeds and stir to combine. Serve immediately.