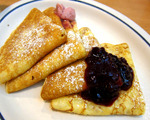 Prep: 12 hr 5 min
Cook Time: 15 min
Total: 12 hr 20 min
Serving: 8
Rolled oats and buttermilk are the special ingredients in Swedish Pancakes. Don't forget the lingonberries.
Ingredients
2 cups rolled oats
2 1/8 cups buttermilk
1/2 cup flour
2 tablespoons sugar
1 teaspoon baking powder
1 teaspoon soda
2 eggs, lightly beaten
1/4 cup butter, melted
Directions
Combine oats and buttermilk in bowl. Refrigerate covered, overnight.
Sift dry ingredients together. Stir into oatmeal mixture. Add remaining ingredients, mixing well. Bake on a hot griddle using 2 tablespoons batter per pancake.