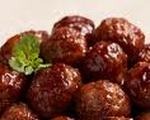 Prep: 1 hr 15 min
Cook Time: 1 hr 40 min
Total: 2 hr 55 min
Serving: 60
Swedish-Italian Meatballs are the best combination of North meets South. This recipe makes over 250 meatballs for an extraordinary appetizer.
Ingredients
4 pounds lean ground beef
2 pounds Jimmy Dean regular sausage
2 cups dry bread crumbs
2 cups milk
4 eggs, slightly beaten
1 large onion, chopped
4 teaspoon each salt and sugar
2 teaspoon ground allspice
1 teaspoon pepper
red wine
Directions
Mix all ingredients together except the red wine. Shape into balls. Place on baking sheets and bake at 350 degrees F for 20 minutes. Turn meatballs over and bake an additional 20 minutes. Reverse pans on oven racks to ensure even browning.
Remove meatballs from baking sheet and put in a large frying pan. Fill pan half way up with red wine. Simmer meatballs in wine for 45 minutes making sure to turn them so they are submerged. Cool and refrigerate or freeze.