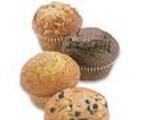 Prep: 15 min
Cook Time: 25 min
Total: 40 min
Serving: 6
Sure Fire Apple Bran Muffins are easy to make and a delicious way to get your fiber.
Ingredients
1 1/2 cups All Bran cereal
1 1/4 cups low fat milk
1/3 cup corn oil
1 large egg
1 teaspoon cinnamon
1 1/4 cups flour
1/2 cup sugar
3 teaspoons baking powder
1/2 teaspoon salt
1 apple peeled, cored and diced
3 handfuls raisins
Directions
Beat together cereal, milk, oil and egg with electric mixer. In separate bowl, mix flour, sugar, baking powder and salt.
Add dry ingredients to bran mixture and stir until well mixed. Stir in apples, raisins and cinnamon. Pour into greased muffin tins and bake at 400 degrees F for 20-25 minutes or until golden.