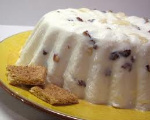 Prep: 2 hr
Cook Time: 10 min
Total: 2 hr 10 min
Serving: 6-8 servings
Ingredients
1 (29 ounce) can pears, undrained
1 (4 serving) box lime gelatin
1 (3 ounce) package cream cheese, softened
3/4 cup whipping cream
Directions
Drain the juice from the pears into a small saucepan, bring to a boil. Dissolve the gelatin in the boiling juice. Refrigerate until partially set.
Mash together the pears and cottage cheese, mix into the gelatin.
Beat the cream until stiff and fold into the gelatin mixture.
Pour into a mold and refrigerate until ready to serve. Serve over a lettuce cup.