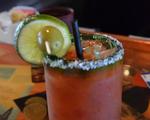 Prep: 1 hr 15 min
Cook Time: –
Total: 1 hr 15 min
Serving: 6 People
Are you a fan of spicy foods? Add crushed red pepper and Frank's Red hot to everything? If so, this is the bloody mary for you! Made with the same ingredients as the regular, just with a few additions of some super spicy condiments. This drink isn't for the faint of heart, so sip only if you dare!
Ingredients
3 cups tomato juice, low sodium
1/4 cup lime juice
1 tablespoon prepared horseradish
2 tablespoons minced ginger
1 tablespoon Worcestershire sauce
1/4 teaspoon ground pepper
1 1/2 cups pepper vodka
1 tablespoon tobassco sauce
1/2 teaspoon crushed red pepper
1/2 teaspoon sea salt
1 garlic clove, minced
Directions
Combine tomato juice, lime juice, horseradish, ginger and garlic in a blender or food processor. Pulse until smooth. Add Worcestershire sauce, pepper , tobassco, crushed red pepper and salt. Chill for at least an hour.
Add pepper vodka to mixture. Serve in a tall glass with lime wedge and enjoy!