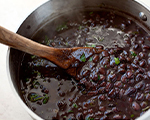 Prep: 5 min
Cook Time: 15 min
Total: 20 min
Serving: 4 Servings
A healthy and delicious vegetarian side dish, these hearty black beans are full of spicy flavor.
Ingredients
2 teaspoons extra-virgin olive oil
1 medium yellow onion, diced
2 cloves garlic, minced
2 teaspoons ground ancho chile pepper
1/2 teaspoon ground cumin
1/2 teaspoon dried oregano
2 15-ounce cans black beans, rinsed
1 cup water
1 tablespoon tomato paste
Directions
Place the oil in a medium-sized saucepan over medium-high heat and sauté the onion for 5 minutes, stirring frequently.
Add the garlic and continue to sauté the mixture for an additional minute, and then stir in the chile, cumin and oregano and cook for 40 more seconds.
Stir in the beans, water and tomato paste and bring the mixture to a simmer. Cook for 10 minutes and then serve immediately.