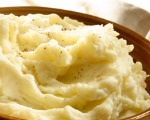 Prep: 5 min
Cook Time: 10 min
Total: 15 min
Serving: 6 servings
Cost per recipe*: $1.11.
Cost per serving*: $0.19.
*Based on average retail prices at national supermarkets.
Nutrition Information per serving:
Calories 190, Calories From Fat 120, Saturated Fat 2g, Trans Fat 0g, Total Fat 13g, Cholesterol 10mg, Sodium 125mg, Total Carbohydrate 15g, Sugars 1g, Dietary Fiber 1g, Protein 2g, Vitamin A 0%, Vitamin C 10%, Calcium 0%, Iron 2%
Ingredients
1 pound all-purpose potatoes, peeled and diced
1/2 cup Hellmann's® or Best Foods® Real Mayonnaise
1 tablespoon milk (optional)
Directions
Cover potatoes with water in 2-quart saucepot. Bring to a boil over high heat. Reduce heat to low and simmer 10 minutes or until potatoes are tender; drain. Return potatoes to saucepot; mash.
Stir in Hellmann's® or Best Foods® Real Mayonnaise and milk. Season, if desired, with salt and ground black pepper.