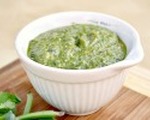 Prep: 10 min
Cook Time: 5 min
Total: 15 min
Serving: Makes 1 cup
Looking for a way to add some pizzazz to that turkey panini or boring ol' chicken dinner? Add some of this super easy and zesty pesto! This delicious sauce is made with fresh basil leaves, walnuts and some delicious Parmesan cheese. You really don't get much better, or easier, than this basil pesto!
Ingredients
2 cups fresh basil leaves
2 garlic cloves, minced
1/2 cup Parmesan cheese
1/3 cup walnuts
1/2 cup extra virgin olive oil
2 tablespoons lemon juice
Dashes of salt and pepper
Directions
Place the walnuts, oil and basil leaves into a blender or food processor. Pulse on low until it is creamy. Add in the cheese, lemon juice and garlic cloves and continue to pulse until the mixture is creamy and mixed. Add additional salt and pepper to taste.
Cover and chill in the fridge before serving and enjoy!