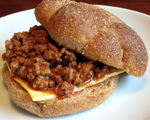 Prep: 10 min
Cook Time: 22 min
Total: 32 min
Serving: 4 Servings
Your kids will be glued to the dinner table if they hear it's Sloppy Joes night! Enjoy these classic sandwiches on lightly buttered, toasted crusty rolls.
Ingredients
1 tablespoon extra-virgin olive oil
1-1/4 pounds ground beef sirloin
1/4 cup brown sugar
1 tablespoon steak seasoning blend
1 medium onion, chopped
1 small red bell pepper, chopped
1 tablespoon red wine vinegar
1 tablespoon Worcestershire sauce
2 cups tomato sauce
2 tablespoons ketchup
4 crusty rolls, split, toasted
4 slices Cheddar cheese
Directions
Heat the olive oil in a large skillet over medium high heat and add the ground sirloin.
Break the meat into pieces and sprinkle with the brown sugar and the steak seasoning. Continue to cook the meat for 7-8 minutes until browned.
Add the onion, peppers, vinegar and Worcestershire sauce to the pan and mix well. Cook for an additional 7 minutes and then add the tomato sauce and ketchup. Once the mixture begins to simmer, reduce heat to low and cook for 5 minutes.
Spoon the meat mixture onto the toasted rolls and top with a slice of cheese. Serve immediately.