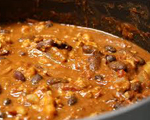 Prep: 15 min
Cook Time: 1 hr 40 min
Total: 1 hr 55 min
Serving: 4 Servings
Fill those hearty Super Bowl appetites with an equally hearty and satisfying bowl of chili. Serve with grated cheese melted on the top and a side of tortilla chips.
Ingredients
3 tablespoons olive oil
1-1/2 cups chopped onion
8 large garlic cloves, chopped
2 pounds ground chuck
1 envelope taco seasoning
1 teaspoon dried basil
1/2 teaspoon dried oregano
1/2 teaspoon dried thyme
1-15 ounce can tomato sauce
3 cups chicken broth or vegetable broth
1, 6 ounce can tomato paste
2, 16 ounce cans of kidney beans, drained
Directions
In a large saucepan, heat the oil over medium-high heat and sauté the onion and garlic for about 7 minutes.
Drop in the ground chuck, and break into small pieces as it cooks and begins to brown.
Sprinkle in the taco seasoning, basil, oregano, and thyme and cook for 2 minutes.
Add the tomato sauce, chicken broth and tomato paste and stir until combined. Cook over medium-low heat for 1 hour and 15 minutes, stirring occasionally so mixture doesn't stick to pan.
Add the beans and a sprinkle of salt and pepper, and continue to simmer for about 6 minutes. Ladle into bowls and serve immediately garnished with grated extra sharp cheddar cheese.