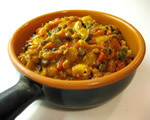 Prep: –
Cook Time: –
Total: –
Serving: 8
Spicy succulent seafood makes this chili a winning score for your Super Bowl guests.
Ingredients
2 tablespoons vegetable oil
2 onions, chopped
4 garlic cloves, minced
1/4 cup minced fresh parsley plus more for garnish
1 cup roasted red bell pepper, chopped
2 jalapenos, seeded, minced
2 tablespoons chili powder
2 teaspoons ground cumin
2 teaspoons dried Italian seasoning
1/2 teaspoon cayenne pepper
1/2 cup white wine
1 (28-ounce) can roasted diced tomatoes
1 bottle clam juice
1 pound medium-sized shrimp, shelled and deveined
1 pound bay scallops
1/2 pound halibut, cod or pollack
Sea salt and freshly ground black pepper to taste
Sour cream
1 ripe avocado, peeled and diced
Directions
Heat the oil in a wide, deep skillet over medium heat. Cook the onion, stirring often, until translucent. Stir in garlic and cilantro and cook, stirring, for 30 seconds.
Add the bell pepper, jalapeno, chili powder, cumin, Italian seasoning and cayenne and stir well to combine. Cook, stirring occasionally, for 2 minutes.
Add wine and scrape up any browned bits from the bottom of the skillet. Cook for 2 minutes.
Stir in the tomatoes and clam juice and bring mixture to a low boil. Reduce heat to low and simmer, stirring often, until the tomatoes are very tender.
Stir in the shrimp, scallops and fish. Simmer gently for 10 to 12 minutes or until they are cooked through. Season with salt and pepper.
Serve hot, garnished with sour cream and avocado.