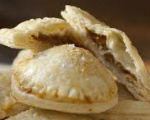 Prep: 20 min
Cook Time: 15 min
Total: 35 min
Serving: 5 servings
Biscuits formed into pockets and stuffed full of cheese and Canadian bacon. Served with apples for a fun and nutritious breakfast.
Ingredients
1 (10 ounce) package refrigerator biscuits (10 biscuits)
1 (6 ounce) package sliced Canadian bacon
5 slices swiss cheese
1 egg, slightly beaten
Vegetable oil spray
2 tablespoons margarine
2 red apples, cored and sliced
Directions
Preheat the oven to 400 degrees Fahrenheit.
Roll the biscuits into 4 inch circles. Use a fork to add decorative marks to the top of 5 biscuits.
Evenly divide the bacon and cheese across the remaining undecorated biscuits, leaving a 1/2 inch edge.
Place the decorated biscuit on top. Press the edges with a fork to seal.
Brush the egg on top. Arrange on a greased baking sheet.
Bake for 12 minutes, or until golden brown.
While baking, melt the margarine in a skillet over medium heat. Add the apple slices and brown, turning once.
To serve, top the biscuits with the apple slices.