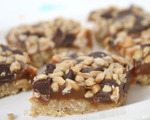 Prep: 10 min
Cook Time: 25 min
Total: 35 min
Serving: Makes 1 9x13-inch pan of bars
These hearty bars are chock-full of wonderful flavor and goodness. Enjoy their delcious combination of oats, caramel, sunflower seeds and chocolate chips.
Ingredients
3/4 cups soft butter
1 cup oatmeal
1 cup flour
3/4 cup brown sugar
1 teaspoon baking soda
1 14-ounce bag caramel candies, wrappers removed
1/4 cup milk
1/2 cup sunflower seeds
1/2 cup chocolate chips
Directions
Preheat your oven to 325 degrees and grease a 9x13-inch baking pan.
Place the butter, oatmeal, flour, sugar and baking soda into a bowl and mix well to combine. Transfer the mixture to the prepared pan, spread evenly on the bottom of the pan and then place in the oven for 10 minutes. Remove the crust and set aside to cool.
In the meantime, place the milk and the candies into a saucepan over medium heat, and whisk until melted. Pour the mixture over the prepared crust and then top with the sunflower seeds and the chocolate chips. Bake the bars for 13 minutes and then cool before serving.