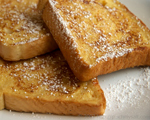 Prep: 25 min
Cook Time: 48 min
Total: 1 hr 13 min
Serving: 6 Servings
When you wake up in the morning looking for something sweet instead of salty bacon and eggs, try this recipe for cinnamon and raisin French toast and serve with a pat of butter, a dusting of powdered sugar and a drizzle of honey or maple syrup.
Ingredients
7 large eggs
2-1/2cups half and half
1/2 cup sugar
1 tablespoon vanilla extract
1 teaspoon ground cinnamon
1/4 teaspoon ground nutmeg
6 slices cinnamon-raisin bread or French bread, 1-1/2-inch-thick
4 tablespoons unsalted butter
Directions
In a large baking dish, whisk together the eggs, cream, sugar, vanilla, cinnamon and nutmeg. Add in the bread slices and coat well with mixture. Set aside for 20 minutes.
Preheat the oven to 350 degrees.
In a large frying pan, melt 2 tablespoons of the butter over medium heat, and fry the slices of bread for 3 minutes, turning once; add more butter as needed. Bread will turn a golden brown color.
Place the fried bread on a baking sheet and bake for 30 minutes. Remove and serve warm.