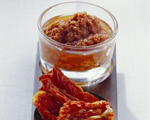 Prep: 10 min
Cook Time: 3 min
Total: 13 min
Serving: 4
You can use this sauce to top grilled or roasted meats including steak, pork and chicken. Use sun-dried tomatoes in olive oil possible.
Ingredients
Sea salt and freshly ground black pepper
1-1/4 teaspoons ground cumin, divided
1 teaspoon of olive oil
1 cup water
8 sun-dried tomatoes, preferably in oil, drained
2 tablespoons capers, drained and chopped
1 clove garlic, smashed
1 tablespoon chopped parsley
1 tablespoon sherry or red wine vinegar
Directions
Place the water, tomatoes, capers, garlic, parsley and vinegar into a blender, and blend until smooth.
Transfer the tomato mixture to a saucepan and bring to a simmer over medium heat. Cook for 3 minutes and then season to taste with salt and pepper.