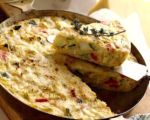 Prep: 10 min
Cook Time: 20 min
Total: 30 min
Serving: Serves 4 people
Served hot or cold, morning or evening Sun-Dried Tomato Frittata brings you a taste of the Mediterranean. Serve with fresh fruit or greens.
Ingredients
6 sun-dried tomatoes
4 tablespoons olive oil
1 small onion, finely chopped
Pinch of fresh thyme leaves
6 eggs
2/3 cup freshly grated Parmesan cheese
Salt and pepper to taste
Parmesan cheese gratings for garnish
Directions
In a small bowl, add hot water to the dried tomatoes (just enough to cover them). Allow to soak for about 15 minutes.
Remove the tomatoes from the water. Pat dry and reserve the water. Slice each tomato into thin strips.
Using a large pan over high heat, add the oil and add the onion, cooking for about 5 minutes, or until softened and golden. Add the tomatoes and thyme to the onion mixture and cook over medium heat for about 3 minutes, stirring occasionally. Add the salt & pepper to taste.
Using a medium bowl, add the eggs and beat lightly. Add about 3 tablespoons of the reserved water to the eggs, and the Parmesan cheese. Raise the heat to the onion mixture to high. When hot, add the eggs and quickly mix with the other ingredients. Lower the heat to medium and allow to cook for about 4 minutes, or until the base of the egg mixture is golden and the top begins to puff.
Using a plate that is about the same size as the pan, place it upside-down over the pan and carefully turn the pan over, with the frittata onto the plate. Slide the frittata back to the pan and cook for another 3-4 minutes on the other side.
Remove the pan from the heat and to serve, slice into wedges. Garnish with the Parmesan shavings and serve hot or cold.