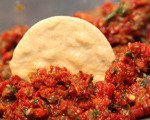 Prep: 2 hr 40 min
Cook Time: 6 min
Total: 2 hr 46 min
Serving: Makes about 2-1/4 cups
Look for sun-dried tomatoes that aren't overly dry or chewy. A plumper and somewhat waxy-textured variety will have a better balance of acidity and fruity sweetness.
Ingredients
8 sun-dried tomatoes halves (not oil-packed)
1/4 cup chopped fresh parsley
1 tablespoon fresh chives
1 tablespoon olive oil
2 teaspoons fresh lemon juice
1 teaspoon red wine vinegar
1/2 teaspoon sea salt
1/2 teaspoon freshly ground pepper
1 clove garlic, finely chopped
3/4 cup plain Greek yogurt
3/4 cup sour cream
Directions
Place 1-inch of water into a saucepan, add the tomatoes and then bring the mixture to a boil. Once boiling, reduce the heat to medium and simmer for 6 minutes .
Transfer the tomatoes to a blender and add the parsley, chives, olive oil, lemon juice, vinegar, salt, pepper and garlic, and then process the mixture until smooth.
Pour the tomato mixture into a bowl and then stir in the yogurt and the sour cream. Mix well to combine and then cover and refrigerate the dip for 2-1/2 hours before serving.