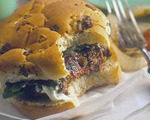 Prep: 15 min
Cook Time: 16 min
Total: 31 min
Serving: 8 servings
These upscale burgers are flavored with a blend of sun-dried tomatoes and finely shredded lemon peel, and then served topped with a fresh basil, jalapeno pepper and mayonnaise sauce. Accompany them with a bottle of Zinfandel.
Ingredients
2 pounds lean ground beef
2 tablespoons finely chopped, drained, oil-packed dried tomatoes
2 teaspoons finely shredded lemon
1 teaspoon salt
1/2 teaspoon pepper
1/2 cup light mayonnaise
1/4 cup snipped fresh basil
2 jalapeno peppers, seeded and finely chopped
8 onion hamburger buns
2 cups lightly packed arugula
Directions
Prepare your grill on medium heat.
Place the ground beef, sun-dried tomatoes, lemon peel and a few pinches of salt and pepper into a bowl and mix to combine. Shape the mixture into 8 patties and then place on the hot grill and cook for 8 minutes per side, turning once.
In the meantime, put the mayonnaise, basil, and jalapeno peppers into a small bowl, stir vigorously to blend and then season with salt and pepper. Spread the inside of each hamburger bun with the mixture and then add the cooked hamburgers. Top each burger with some arugula and then serve immediately.