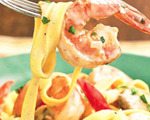 Prep: 10 min
Cook Time: 15 min
Total: 25 min
Serving: 4 Servings
A colorful, vibrant and flavorful dish that will surely become a family favorite; serve this tasty main course summer meal with a bottle of Chardonnay.
Ingredients
8 ounces garlic-basil or tomato-basil flavored dried fettuccine
6 ounces baby squash (yellow or green), halved or quartered
1/2 medium red onion, cut into thin wedges (1/4 cup)
1 clove garlic, finely chopped
2-1/2 tablespoon extra-virgin olive oil
6 ounces small shrimp, peeled
1 cup evaporated milk
1/2 teaspoon bottled hot pepper sauce
4 ounces goat cheese, cut up
3 tablespoons snipped fresh basil
2 teaspoons finely shredded lemon peel
1 teaspoon snipped fresh mint
1 small head radicchio, torn
Directions
Cook the fettuccine 'al dente' according to package directions, drain and then return to the pot. Drizzle with 1-1/2 tablespoons olive oil and toss to coat.
In the meantime, place the remaining oil into a large sauté pan over medium heat. Once the oil begins to shimmer, add the squash, onion, and garlic and sauté for 3 minutes. Stir in the shrimp and cook the mixture for an additional 3 minutes, and then add the milk and the hot pepper sauce.
Take the pan off the heat and add the cooked fettuccine and the goat cheese. Toss the mixture until the cheese has melted and then add the basil, lemon peel, mint, radicchio and a generous pinch of salt and pepper. Toss once again to combine and then serve immediately.