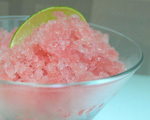 Prep: 4 hr 40 min
Cook Time: 5 min
Total: 4 hr 45 min
Serving: 4 Servings
When it's even too hot for ice cream, try serving this refreshing watermelon granita instead. Its sweet and frosty taste will cool your taste buds.
Ingredients
4 cups (about 1/2) watermelon, cubed and seeded
1/2 cup of water
1/4 cup of raw or refined sugar
1/4 teaspoon red chili powder
Juice of one lime
Slices of Lime to garnish
Directions
Place the water, sugar, and red chili into a saucepan over medium heat and stir until sugar has completely dissolved.
Remove the mixture from the heat and allow to cool for 5 minutes before placing in a blender along with the watermelon and the lime juice.
Blend the mixture together until smooth and then pour into a shallow pan, cover and place in the freezer for 4-1/2 hours, making sure to scrape the mixture every hour to break up the ice crystals.
Serve the granita in pre-chilled dessert bowls and garnish with slices of lime.