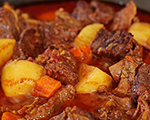 Prep: 5 min
Cook Time: 20 min
Total: 25 min
Serving: 4 Servings
A wonderful and simple way to use summer's bounty of vegetables in a hearty, yet light, summer stew. Have the roast cooked in advance in order to save additional time preparing this dish.
Ingredients
1 17-ounce package refrigerated cooked beef roast au jus
1 8-ounce package peeled fresh baby carrots, sliced
3-1/2 cups water
1/2 of a 16-ounce package refrigerated rosemary-and-roasted garlic, diced red-skinned potatoes
1 14.5-ounce can diced fire-roasted tomatoes with garlic
2 tablespoons snipped fresh oregano
Directions
Place the carrots and 1 cup of water in a soup pot and bring to a boil.
Once boiling, reduce the heat and cover the pan. Simmer for 4 minutes.
Pour in the remaining water and add the potatoes, tomatoes and oregano. Bring the mixture to a boil and then reduce heat and simmer, covered, for an additional 4 minutes.
Tear the beef into small pieces and add to the pot along with any juices from the meat. Simmer the mixture for 5 minutes and then season with salt and pepper. Ladle into bowls and serve.