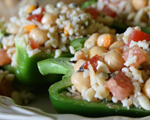 Prep: 20 min
Cook Time: 1 hr 35 min
Total: 1 hr 55 min
Serving: Makes 6-8 Servings
A medley of rice and orzo is first sautéed in butter and then placed in the oven for 45 minutes to cook before tossing with fresh spinach, basil, oregano, feta and pine nuts.
Ingredients
1/2 cup butter
6 green onions, finely chopped
2 large cloves garlic, minced
3/4 cup uncooked orzo
3/4 cup uncooked long-grain white rice
3-1/2 cups vegetable or chicken broth, heated to boiling
1/4 teaspoon salt
1/4 teaspoon black pepper
1/3 cup finely chopped carrots
1/3 cup finely chopped young zucchini or any summer squash
1/3 cup thinly sliced fresh spinach leaves
3 tablespoons chopped fresh basil leaves
2 tablespoons chopped fresh oregano leaves
1/3 cup crumbled feta
3 tablespoons pine nuts, toasted
1 large fresh tomato, chopped
1/2 cup chickpeas, rinsed and drained
8 medium green peppers, cut in half lengthwise, seeds removed
3/4 cup grated Parmesan of your choice
1 cup vegetable broth
Directions
Preheat your oven to 350 degrees.
Place the butter into a large oven-safe saucepan over medium heat. Once melted, add the green onions and the garlic and sauté for 3 minutes. Stir in the orzo and cook the mixture for 2 minutes, stirring constantly, and then add the rice and sauté for an additional 2 minutes.
Slowly add the hot broth to the mixture, along with a few pinches of salt and pepper, and then cover the pan and place in the oven for 45 minutes.
Take the pan out of the oven and stir in the carrots, zucchini, spinach, basil, oregano, feta, pine nuts, tomato, and chickpeas. Let the mixture stand, covered, for 10 minutes.
Increase the oven heat to 375 degrees.
Stuff each pepper half with the filling and then place into a large baking dish. Add enough broth to cover the bottom of the pan and then cover the dish with aluminum foil. Cook the stuffed peppers for 30 minutes, and then remove from the oven and sprinkle with the cheese. Bake, uncovered, for an additional 10 minutes and then remove the peppers and serve immediately.