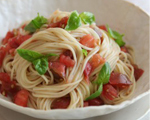 Prep: 2 hr
Cook Time: 10 min
Total: 2 hr 10 min
Serving: 4 Servings
This pasta dish captures the wonderfully fresh flavors of summer in a sweet and savory aromatic sauce made with ripe tomatoes, fresh basil, brie and garlic. Splurge on good-quality Parmesan to top pasta and enjoy a simple yet delicious meal.
Ingredients
4 large ripe tomatoes, cut into 1/2-inch cubes
1 pound Brie cheese, rind removed, cut into pieces
1 cup fresh basil leaves, cut into strips
3 garlic cloves, peeled and finely minced
1 cup, plus 1 tablespoon, extra virgin olive oil
2-1/2 tsp salt
1/2 tsp freshly ground black pepper
1 1/2 cappellini (angel hair pasta)
Freshly grated imported Parmesan cheese
Directions
Add the tomatoes, Brie, basil, garlic, 1 cup olive oil, 1-1/2 teaspoons of salt and pepper to a large bowl and toss until combined. Cover and set aside to marinate at room temperature for at least 2 hours.
In a large pot, bring enough water to cook the pasta in to boil. Add the remaining teaspoon of salt and tablespoon of oil to the water and boil the cappellini according to the directions on the package for al dente pasta.
Immediately drain the pasta, place back into the warm pot and add the tomato sauce. Toss the pasta well to coat, transfer to a serving bowl and serve with a grind of pepper and a few generous tablespoons of grated Parmesan cheese.