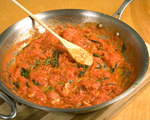 Prep: 15 min
Cook Time: 20 min
Total: 35 min
Serving: Sauce for 1 pound of pasta
Nothing beats the taste of tomato sauce made with fresh, sun-ripened summer tomatoes and basil.
Ingredients
15 plum tomatoes, blanched, peeled and seeded
1/4 cup extra virgin olive oil
2 cloves garlic, peeled and sliced
Sea salt and freshly ground pepper
Several sprigs of basil
Directions
Put the olive oil into a large sauce pan over high heat, and add the garlic. Cook the garlic for 3 minutes and then add the tomatoes.
Sprinkle the tomatoes with some salt and then reduce heat to medium-low. Allow the tomato mixture to simmer for 10 minutes, stirring frequently.
Tear the basil leaves and add to the sauce. Cook for an additional 5 minutes and then season to taste with salt and pepper.