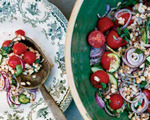 Prep: 10 min
Cook Time: 26 min
Total: 36 min
Serving: 8 servings
Farro is a type of wheat that is popular in Italy and the Middle East. Its slightly nutty flavor is a delicious base for this summer salad made with a mix of vegetables and fresh herbs.
Ingredients
1/3 cup plus 2 tablespoons extra-virgin olive oil
1 small yellow onion, quartered
1 small carrot, halved
1 celery rib, halved
12 ounces farro, 1-3/4 cups
5 cups water
Sea salt
3 tablespoons red wine vinegar
Freshly ground pepper
1/2 small red onion, thinly sliced
1 small seedless cucumber, halved lengthwise and thinly sliced crosswise
1 pint grape tomatoes, halved
1/4 cup chopped fresh basil
Directions
Place the 2 tablespoons of the olive oil into a large saucepan over medium-low heat. Once hot, add the yellow onion, carrot and celery and then cook the mixture, covered, for 5 minutes.
Stir in the farro and sauté the mixture for 1 minute before pouring in the water and bringing to a boil. Add a few pinches of salt to the pan, cover, and simmer over low heat for 20 minutes. Using a colander, drain the farro and then remove and discard the onion, carrot ad celery.
Place the remaining oil into a large salad bowl and whisk vigorously with the vinegar and a few pinches of salt and pepper. Add the cooled faro, the red onion, cucumber, tomato, basil and additional salt and pepper to taste. Toss well to combine and then serve.