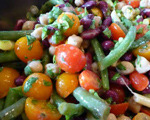 Prep: 15 min
Cook Time: 2 min
Total: 17 min
Serving: 4 Servings
There are many different ways to be creative with leftovers, especially chicken. Enjoy it in this summer vegetable salad made with beans, tomatoes, fresh parsley and basil.
Ingredients
1 cup cooked chicken, shredded
1 pound green and/or yellow wax beans, trimmed and cut into thirds
1 can kidney beans
1 pint grape or small cherry tomatoes, cut in half
4 green onions, chopped
Large handful fresh flat Italian parsley, roughly chopped
Large handful fresh basil leaves, roughly chopped
1/4 cup Dijon mustard
1/4 plus 2 tablespoons cup fresh lemon juice
3 tablespoons sugar
1/4 plus 2 tablespoons cup extra virgin olive oil
Sea salt and freshly ground pepper
Directions
Place the green beans into a steamer basket over a saucepan of boiling water, and steam for 2 minutes. Transfer the beans to a bowl of cold water, drain and then set aside.
Put the mustard, lemon juice, sugar, olive oil and a few pinches of salt and pepper into a salad bowl and whisk vigorously until blended.
Add the shredded chicken, kidney beans, green beans, parsley, basil, green onions, and tomatoes to the bowl and then gently toss until the mixture is well combined and coated with the dressing. Serve immediately or place into the refrigerator for a few hours to allow the flavors to blend.